Roasted Veggies:
10 stems of broccolini, 8 ounces
6 small tomatoes, 8 ounces
1 Teaspoon olive oil
sea salt and pepper to taste
Mushroom Pan Sauce:
12 cremini mushrooms, 8 ounces
1 Tablespoon butter, or olive oil for dairy free
1 shallot, minced, 1/4 cup
2 Teaspoons minced fresh rosemary
1/2 cup white wine, or chicken stock
sea salt and pepper to taste
1–2 Teaspoons reserved flour mixture from fish
Pan fried Rockfish:
12 ounces of rockfish for a 6 ounce serving each
2 Tablespoons cassava flour, I used the Ottos brand
1/2 Teaspoon sea salt
1/4 Teaspoon black pepper
pinch of cayenne pepper
1/8 Teaspoon garlic powder
1 Tablespoon olive oil for pan frying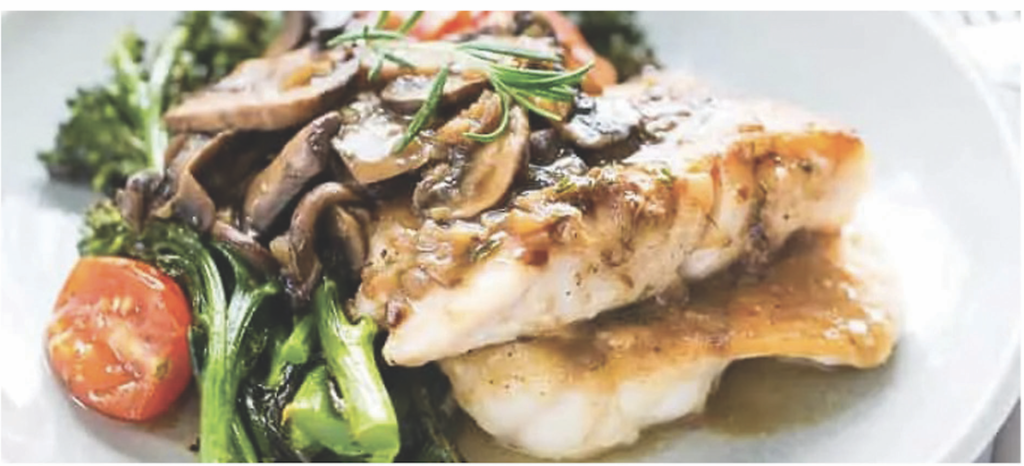 Preheat the oven to 450ºF and line a baking sheet with parchment paper.
Cut the tomatoes in half and place them on the lined baking sheet with the broccolini. Drizzle with olive oil and season with sea salt and pepper. Set the veggies aside until you're done with the pan sauce.
Make the flour mixture for the fish by whisking together the cassava flour, sea salt, black pepper, cayenne, and garlic powder. Reserve 2 Teaspoons of this flour mixture on the side for thickening the mushroom sauce.
Thoroughly clean the mushrooms and thinly slice them.
Preheat a 9″ cast iron pan over medium heat, add the butter or olive oil and minced shallots. Sauté the shallots until translucent and lightly browned, about 3-4 minutes. Turn the heat up to medium high, add the minced rosemary and sliced mushrooms, sauté turning the mushrooms every 30-45 seconds when they've browned. When the mushrooms are tender, turn the heat back down to medium, and add the white wine. Simmer for 1-2 minutes and season to taste with salt and pepper. Thicken the sauce by stirring vigorously while sprinkling in 1 Teaspoon of the reserved flour mixture. If the sauce is still too thin, stir in the remaining teaspoon of reserved flour mixture. Set the sauce on a back burner over the lowest heat to keep it warm while you cook the fish and veggies.
Place the prepared veggies in the oven to roast until tender, about 12 minutes.
Preheat another 9″ cast iron skillet or nonstick skillet over medium heat. Rinse the fish thoroughly with water and pat the fillets dry with paper towels. When the veggies are halfway cooked, you're ready to start the fish.
Add the tablespoon of olive oil to the preheated pan, and dredge both sides of each fish fillet into the flour mixture you made earlier. Place the fillets into the pan and fry for 4-6 minutes per side, or until golden and the fish is beginning to flake apart. The timing will vary every time depending on the thickness of your fillets.
Serve by placing a fillet on each of the 2 plates, split the roasted veggies onto each plate, and top with the mushroom sauce.
Serve immediately.